Peace and Freedom
.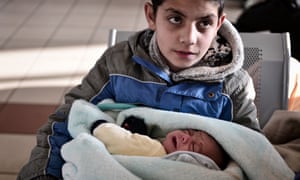 A refugee boy holds his baby brother at the port of Piraeus, Greece, in February 2016. Photograph: Louisa Gouliamaki/AFP/Getty Images
The European commission has launched a legal case against Poland, Hungary and the Czech Republic for refusing to take in refugees, intensifying a bitter feud within the bloc about how to deal with migration.
The Eurosceptic governments in Poland and Hungary have refused to take in anyone under a plan agreed by a majority of EU leaders in 2015 to relocate migrants from frontline states Italy and Greece to help ease their burden. The Czech Republic initially accepted 12 people but has since said it would not welcome more.
Speaking at a news conference on Tuesday…
View original post 224 more words